---
Iranian Christians International Inc.
P.O. Box 25607
Colorado Springs,
CO 80936, U.S.A.
Phone: (719) 596-0010
Fax: (719) 574-1141
www.iranchristians.org
---
Iranian Christians
- Who Are They?
---
Online Bookstore


---
Iranian Christian News, Reports and Related Web Sites
---

---
Translate this page


"... In the last days ... I shall restore the fortunes of Elam (Iran), declares the Lord." Jeremiah 49:39
POSTERS IN PERSIAN
(P=Persian, E=English)
Poetry written about Jesus Christ by famous Iranian poets.
Naskh and Nastaleeq calligraphic scripts. The posters
make good gifts. Good for all Persian/Dari speaking people.
2220001

Poem by Hafez (P/E)
Color selections: green, yellow, dark orange, light orange.

$1.25

2220002

Poem by Roumi (P)
Color selections: green, yellow, dark orange, light orange.

$1.25

2220003

Poem by Sanaii (P/E)
Color selections: green, yellow, dark orange, light orange.

$1.25

2220004

Poem by Jami (P/E)
Color: White with turquoise writing.

$1.25

2220005

Romans 8:28 (P)
Color: White with turquoise writing.

$1.25

2220006

Poem by Jami (P/E)
Color: White with turquoise writing.

$1.25

2220007

Poem by Roumi (P/E)
Color: White with turquoise writing.

$1.00

2220008

The Lord's Prayer (P)
Gold print on white gloss background.

$0.25

2220009

Christmas Cards (P)
H. Behzad miniature paintings with message. N/A

$1.00

2220011

Christmas Cards (P/E)

$1.00

2220012

The Lord's Prayer (P)
The Catholic Version.

$0.25

2221100

Poster with Mark 13:31 on a background of full color scenery(P)
Size 19" x 27" Limited quantity only while supplies last

$3.50

2221103

Poster-Mark 13:31 (E) Limited quantity only while supplies last

$3.50

2221104

Poster-John 11:25 (E) Limited quantity only while supplies last

$3.50

2221107

Easter Card (P)

$1.00
---

Please send your comments, suggestion, prayer requests and news to ici@myprimus.com.
Copyright © 1996-2023 FarsiNet Inc., All Rights Reserved. (040700 16408 )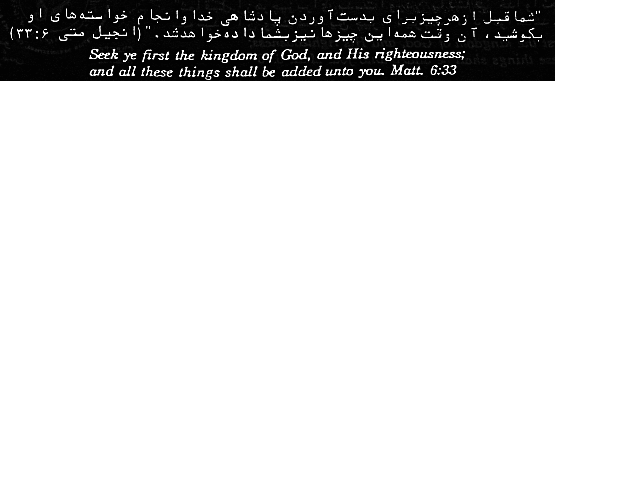 | <!!--#include virtual="/cgi-bin/epoll_iranelection09.cgi"--> <!!--#include virtual="/cgi-bin/epoll_us_prez08.cgi"--> <!!--#include virtual="/cgi-bin/epoll_us_prez08_iranianvotes.cgi"--> <!!--#include virtual="/cgi-bin/epoll_mazhab.cgi"--> | <!!--#include virtual="/cgi-bin/epoll_news.cgi"--> <!!--#include virtual="/cgi-bin/epoll_irannuke.cgi"--> |
| --- | --- |