---
Iranian Christians International Inc.
P.O. Box 25607
Colorado Springs,
CO 80936, U.S.A.
Phone: (719) 596-0010
Fax: (719) 574-1141
www.iranchristians.org
---
Iranian Christians
- Who Are They?
---
Online Bookstore


---
Iranian Christian News, Reports and Related Web Sites
---

---
Translate this page


Iranian Christians International
P.O. Box 25607, Colorado Springs, CO 80936, U.S.A.
(719) 596-0010 ... (719) 574-1141 ... info@iranchristians.org


"... In the last days ... I shall restore the fortunes of Elam (Iran), declares the Lord." Jeremiah 49:39

Dear ICI Bookstore Friends and Customers:

It is a joy to serve you by providing Scriptures, evangelistic, discipleship, training and cultural literature in the Persian, Dari, Pushtu and English languages. We pray that the literature purchased from the ICI bookstore will be of help to you in your search for Christ, your growth as a Christian and/or your ministry to Iranians and other Persian/Dari speaking people.

ICI has provided Christian literature in Persian, Dari, and English languages, and a few titles in the Pushtu language for almost two decades. The accompanying catalog is a complete and updated listing of literature in Persian, Dari, Pushtu and English except for ICI conference teaching cassette tapes listed in a separate ICI Cassette Tape Catalog. For clarity the following codes are used to communicate the language of the book/booklet/tract, etc.

P = Persian D = Dari E = English Pu = Pushtu
1110000 - Scriptures

Bibles, new testaments ...

2250000 - Dari Scriptures

Scriptures ...

2220000 - Posters in Persian

Posters, Poetry and cards

3330000 - Evangelistic

P-Persian, E=English

3350000 - Dari Evangelistic Literature

D=Dari

4440000 - Apologetic

Good for use with serious inquirers and for training for witnessing.

5550000 - Training In Muslim Evangelism

P-Persian, E=English

6660000 - Discipleship For Iranian Believers

P-Persian, E=English, D=Dari

7770000 - Biographical And Testimonies

(P-Persian, E=English, D=Dari), Good for Evangelism

7780000 - Children's Literature

P-Persian, E=English

8855000 - Teaching Tapes

P-Persian, E=English

8880000 - Persian Christian Music

P-Persian, E=English

9970000 - Educational

P-Persian, E=English

9980000 - Persian Culture

P-Persian, E=English

9990000 - Videos

(P-Persian, E=English, D=Dari, A=Azari)

Note: Order NTSC for U.S./Canada Video System, PAL for European Video System
In order to stretch your funds, we suggest that you take the following savings options into consideration when ordering:*

Domestic


(Inside the U.S.)

Orders from


Outside of U.S.



Order
Size


Book Discount

Ship.


&
Hand.
Charge



Book
Discount

Ship.


&
Hand.
Charge
Under $50
None
20%
None
40%

Under $100

None

20%

None

30%

$100-299

10%

15%

10%

25%

$300 +

20%

10%

20%

20%
*Prepayment Required For First Time Orders, All Foreign Orders and Orders Over $100.

Orders: Please order by phone (719) 596-0010, fax (719) 574-1141, or by e-mail: ici@myprimus.com or by mail. Our address is: ICI, P.O. Box 25607, Colorado Springs, CO 80936 or visit our website at: www.iranchristians.org
When ordering, please provide your full name, street address, including your postal code, and daytime phone number. Prepayment is required for new clients, foreign orders and orders over $100. (Minimum Orders are $5.00, minimum shipping $2.00 U.S., $3.00 Outside U.S.) If we are temporarily out of stock on one or more items we will inform you and ship the out of stock item(s) as soon as possible (usually in 4-6 weeks). If an item is discontinued, you will also be informed immediately.

We encourage you to use our order forms whenever possible. When ordering, clearly indicate the item.s catalog number, title, and the quantity you wish to order. If you do not have the item.s catalog number (i.e., product number), please indicate the full title of the item and the language (Persian, Dari, English, etc.) In which you wish to receive the item.

Shipping: Upon receipt of your order, we will ship your products with 24 to 48 hours. For faster delivery, see RUSH ORDERS below. You can expect to receive your order in about 7-10 days from the date your order is received (or one or two months for most surface mail overseas orders). We accept drop shipments. Drop shipments to each address has a $5.00 charge.

ICI is not responsible for the non-receipt of your orders. We can only guarantee that your order is shipped by the U.S. Postal Service (or other shipping service you have specifically requested) However, in over 20 years of our service, only a few orders were not received. We guarantee that your order is securely packaged. Nevertheless, since some of our suppliers are overseas, sometimes our supplies are not received in the best of conditions. In that case a small amount of damage may be expected.

We take extreme care when packing your order. However, if it is necessary to return an item due to error in processing your order, please do so within 10 days of its receipt. Orders of $35.00 or more will be insured. However, Canada and overseas (foreign) orders cannot be insured if they are shipped as books. They can be shipped parcel post and insured, but there will be an additional charge to you. All other orders can also be insured at your request if you pay the extra charges. All shipments are F.O.B. (Free on Board, i.e., ICI has no responsibility once the package is shipped if items are damaged or not received by you). Any item(s) you wish to return must be with ICI.s prior approval and within 70 days of the invoice date. There is a restocking fee of 10%.

Rush Orders: For the fastest possible receipt of your orders we offer Rush Service. We will ship it the same day by the fastest possible carrier. Please specify that your order is a rush order and add $25.00 to your total order.

Customer Service: ICI is a not-for-profit charitable organization. All ICI bookstore literature is priced as low as possible and only to meet the expenses. We have traditionally provided free literature to Persian speaking people in prison or to individuals who do not have the financial means. These situations must be clearly specified when placing an order, and such orders must be limited to $15.00. Gifts toward the operation of the ICI bookstore are gladly accepted and issued tax-deductible receipts.

Payment: Payments for non-prepaid orders are expected within 30 days of the invoice date. Please do not place a new order until your prior invoice is fully paid. When paying, always enclose your invoice (or a copy) or indicate the invoice number so your account can be credited properly.

If you have prepaid and there is still a balance due, you will be notified of the balance due. If you have overpaid, you will be given a credit for the overpayment amount toward your next purchase occurring within 90 days of the invoice date. You may choose, when placing an order, to designate any overpayment toward "Persian Christian Literature Fund" (this fund is used for developing, publishing, and reprinting Christian literature in Persian). You will, in that case, receive a tax deductible receipt from ICI.

For convenience, we accept Visa, MasterCard charge cards.

Prepayment is accepted in U.S. Dollars, Canadian Dollars, British Pounds and Euro.

Finally, we find that literature evangelism combined with friendship evangelism is the most effective method of evangelism among Iranians/Afghans and Muslims from other countries.
We trust that the scriptures and literature you order will be a blessing to you and to those to whom you minister.
---

Please send your comments, suggestion, prayer requests and news to ici@myprimus.com.
Copyright © 1996-2023 FarsiNet Inc., All Rights Reserved. (010700 55956 )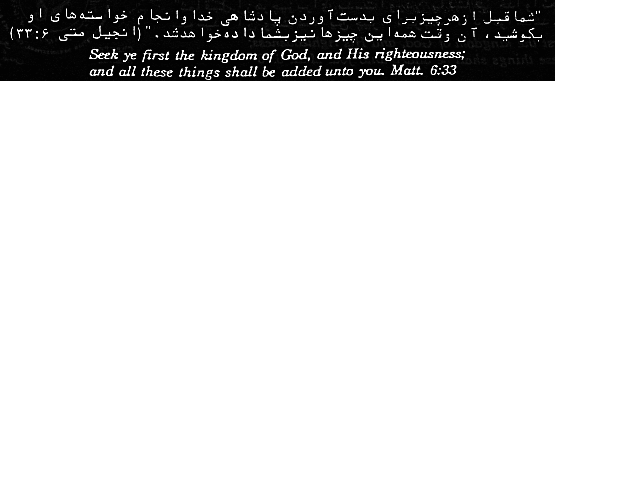 | <!!--#include virtual="/cgi-bin/epoll_iranelection09.cgi"--> <!!--#include virtual="/cgi-bin/epoll_us_prez08.cgi"--> <!!--#include virtual="/cgi-bin/epoll_us_prez08_iranianvotes.cgi"--> <!!--#include virtual="/cgi-bin/epoll_mazhab.cgi"--> | <!!--#include virtual="/cgi-bin/epoll_news.cgi"--> <!!--#include virtual="/cgi-bin/epoll_irannuke.cgi"--> |
| --- | --- |