سور در مفهوم پارسی یعنی رنگ سرخ و آتشین می باشد و جشن سوری جشن آتش می باشد، البته سور به مفهوم مهمانی نیز به کار رفته است.
The night before the last Wednesday of the year is celebrated by the Iranian people as Chahbrshanbe Suri, meaning red wednesday, the Iranian festival of fire. This festival is the celebration of the light (the good) winning over the darkness (the bad); the symbolism behind the rituals are all rooted back to Zoroastrian times, over 2500 years ago.
جشن چهارشنبه سوری هیچگونه ارتباطی به جشن ها و مراسم فرهنگی عربها ندارد و هیچیک از قبایل کنونی آنها این سنت را اجرا نمی کنند. این مراسم به هیچ دین و مذهبی وابسته نیست. این مراسم آریائی و پارسی می باشد.
The tradition includes people going into the streets and alleys to make bonfires, and jump over them while singing the traditional song Zardn-ye man az to, sorkhn-ye to az man (My paleness (pain, sickness) for you (the fire), your strength (Warmth, health) for me).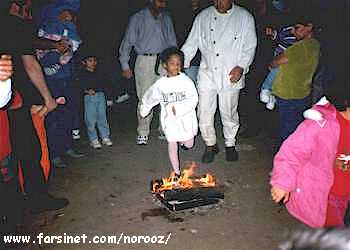 جشن چهارشنبه سوری که در پایان زمستان برگذار می شود و نوید نوروز را می دهد در آن برپایی آتش و پریدن از روی آن به گونه ای زدودن پژمردگی، سرما و بیماری از تن و روان نیز می باشد. در ایران باستان، دانش برافروختن آتش و استفاده از آن در رزم یکی از حربه های سربازان پارسی بوده است که در جنگ ها از آن بهره می جستند و پارسیان پیروزی بر آتش را نشانة حقانیت و نیرومندی می انگاشتند.