---
Persian / Iranian Stamps
---
1889 - 1891 Official Set
1919 Temporary Set
Ahmad Shah #1
Ahmad Shah #2
Reza Shah
Reza Shah Air Mail
Shah's Early Years
Shah Coronation, 1968
Regional Women Costumes
Regional Carpets, 1974
7th Asian Games, 1974
50th Pahlavi Dynasty Anniv., 1976
NoRooz #1
NoRooz #2
Islamic Republic of Iran
Allah
Bam Earth Quick
Children of the World
Salt Water Fish
Fresh Water Fish
Iranian Domestic Cats
Variety
---
---
---

Iran Currency
Persian Banknotes - Shah
Iran Coins - Pahlavi Gold
Iran Banknotes
---


Auction


ebay Auctions
Yahoo Auction
---
Other Persian Stamp Sites
---
Tambr - Persian Stamps, Iranian Stamps
Islamic Republic of Iran - Iranian Domestic Cats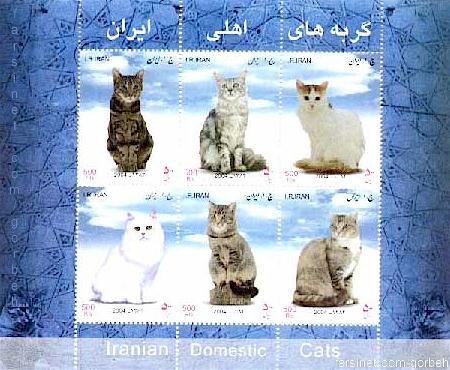 Persian Cats
The Persian cat is one of the most beautiful cats with a long,luxurious coat. Owning a Persian gives one the same gratification as owning a beautiful work of art. Persians are noted for their gentle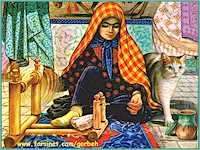 temperament and ease with which they adjust to new environments, making them ideal show cats. In my opinion, Persians are fully aware of how beautiful they are. They are quiet and, although not shy, tend to be undemonstrative. They are quite loving and affectionate and make wonderful companions, and come in a variety of colors.

The Persian cat has graced the show scene for more than 100 years. Judges and spectators have been impressed with their sweet, gentle nature and long flowing coats which occur in multitude of colours and patterns.
"The ideal Persian should present an impression of a heavily boned, well balanced cat with a sweet expression and soft, round lines. The large round eyes set wide apart in a large round head contribute to the overall look and expression. The long thick coat softens the lines of the cat and accentuates the roundness in appearance."