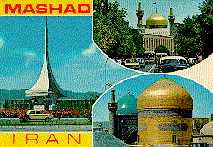 Mashhad, Iran's holiest city, is located 850 kilometers North East of Tehran. Back in the 9th century, Imam Reza was poinsoned and martyred in the city. He was the eighth Imam (head spiritual leader) of Shi'ate Islam (Some consider him Imam of all Muslims. His holy position made his tomb a sacred place for pilgrims to worship. Millions of people pay pilgrimage to the holy shrine, undoubtedly the largest and most magnificent of its kind, every year. There are plenty of priceless objects and unique manuscripts in the shrine's library. Mashad is a tourist city with many hotels of various categories as well as a great number of guest houses for the pilgrims who come to this city from the other parts of the country everyday by tens of flights, trains and buses.
Before he died, the city was known as Sanabad, a small village in the north of Persia. After his death, pilgrims came and ended up staying in Mashhad. The village grew into a small city because of his shrine. Sunni Muslim forces sacked the city, followed by the Mongols in the 13th century. The shrine was badly damaged and, after time, rebuilt.
In the 16th century, three Safavid dynasty rulers established Shi'ite Islam f or the whole territory. The shrine was restored, enlarged, and a Ghoharshad mosque was built. Thes e rulers made pilgrimages to the site and since then it has become the most holy Shi'ite pilgrimage in Iran.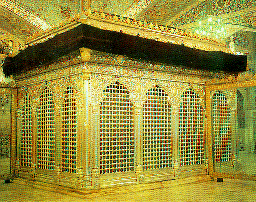 The city's climatic condition is varied with very cold winters, pleasant springs, usually mild summers and beautiful autumns. The magnificent holy shrine of Imam Reza and the historical and artistic complex attached to it including the courtyards, porticos and porches, the Goharshad Mosque (of Timurid period) as well as its rich museum and libray are the most significant sights to be seen by any visitor and pilgrim. There is a magnificent golden dome over the shrine's building; surrounded by several proches. The Grand Gohaharshad Mosque is located to the south of the shrine, the museum and the tomb of Sheikh Bahaee to the southeast and Parizad and Balasar Schools to the west.
Other than a number of large beautiful parks, the other sights tomb of Nader Shah, Kooh Sangi pool. There are also some sights outside the city. Tomb of Khajeh Morad kilometers from Mashad along the road to Tehran, the tomb of Khajeh Rabi' located 6 kilometers north of the city where there are some inscriptions by the renowned Safavid calligrapher Reza Abbasi, and the tomb of Khajeh Abasalt in a distance of 20 kilometers from Mashad along the road to Neishabur. (the three personalities were the disciples of Imam Reza). Among the other sights are the tomb of the great poet Ferdowsi in Tus, 24 kilometers away from Mashad; and the Summer resorts at Torghabeh, Torogh, Akhlomod, Zoshk and Shandiz.