¤
Introduction
1) Classical Poets from Ferdowsi onwards.
Classical poetry can itself be divided into two groups:
2) Modern Poets.

Christian Poets Today
The most prolific contemporary poet that the Christian Churches in Iran have given to the nation is Jalil Qazzaq. His poems have been published ina book called 'Sorrowful, yet Rejoicing'. Many of them have been included in the Church's Hymnal. One is a prayer in the Eucharistic Liturgy of the ancient Church of Persia put into verse by him and translated by Norman Sharp:
'These hands of ours, which spiritual gifts have gained
These bodies, which Thy grace imparted has sustained
O Lord, do not uphold and strengthen day and night,
To offer Thee a loyal service, as is right!

Our tongues, which glorify thine ever worthy name,
And sing Thy praise, and Thy beneficence proclaim
O Lord, restrain from harm of harsh and hurtful word;
May no unkind or thoughtless phrase from us be heard!

Our eyes, which Thy benevolence and love have viewed
Our ears, which Thy commands have heard with certitude
O Lord, make open to the needs of those around;
Where love is giv'n and sought may love from us abound!

Our spirit's lantern from Thyself illuminate,
That it may still more brightly shine and scintillate;
And may our lamp, by fullness of Thy grace secured,
Maintain a constant light and never be obscured!'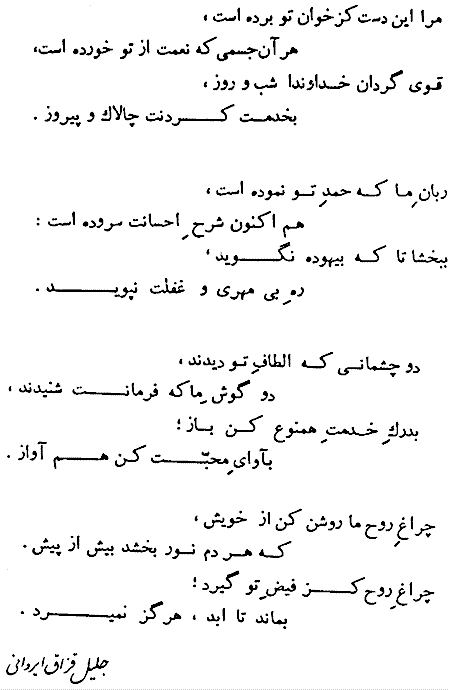 Another contemporary poet is Abbas Aryanpour Kashani. As a young man he translated 'Quo Vadis' into Persian. The he versified the whole of the Gospel of St. John. He wrote several of the hymns which are being sung in the churches of Iran today. Here is part of one of his poems about the sacrifice of Christ, translated by Norman Sharp:
'O Christ, who all things living didst create,
Yet didst for me accept a lowly state,
To liberate the world from sin and guilt,
Thy life was sacrified; thy blood was spilt.
On this account long as the world shall last
To Thee be praise and glory unsurpassed.
O Lord, assure me of Thy constant care;
In mercy pardon sins which me ensnare.'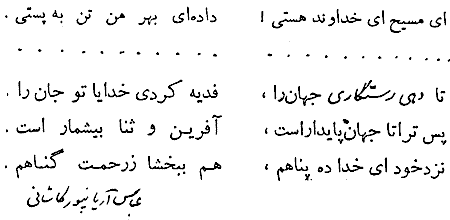 Another poet, who probably wrote the most moving hymn we have, was a man from Kerman, Zand-i-Zolqalam. Very little is known about him. I came across him when he was an old man towards the end of his life. He was suffering from cancer in the eyes and he knew he was dying. He wrote the most beautiful hymn which Mr. Sharp has done his best to translate. Part of it is as follows:
'O Friend of my sad heart, Thy kindness immense be!
O Light of the world, may Thy presence intense be!
Whenever afflicted, with doubt or depression,
Whenever my helper neglects his profession,
Whenever it's hard to refrain from transgression,
Draw near and relieve me, my Guardian hence be!
At length when my lifetime is nearing conclusion,
At length when all pleasure is tasteless intrusion,
At length when existence is changed to confusion,
O Changeless Preserver, my certain defence be!
No griefs or sore troubles can further distress me;
No tears shed in bitterness can still obsess me;
Now death has been vanquished, no dread can oppress me;
Thou always within me the chief influence be!'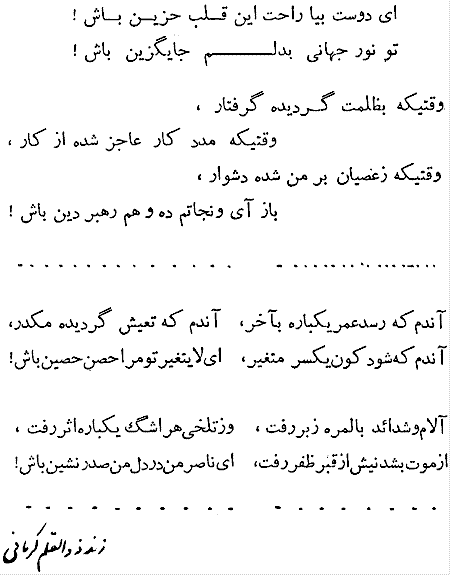 The present Persian Hymnal contains more than 200 Hymns. Many of them are translations of well known western Hymns and Carols, such as 'We Three Kings', 'Silent Night, Holy Night', and 'When I survey the Wondrous Cross', and others. The rest are written by various Persian Christians.