!DOCCTYPE HTML 3.0> <!Created by FarsiNet Inc. - 06/06/1998>

<!body bgcolor=#ffffff background=../images/vilagegr.gif text=#000000 link=#ff0080 vlink=#800080> <!body bgcolor=#000000 background=../images/bgprpslk.gif text=#ffffff link=#0000cc vlink=#f08000> <!body bgcolor=#000000 background=../images/bg_grysilk.jpg text=#ffffff link=#0000cc vlink=#f08000>

Original Art works From Jamal's Studio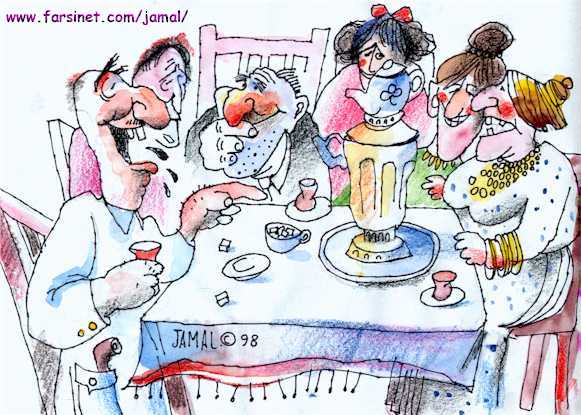 ---
[ Main Page | Gallery 1 | Gallery 2 | Gallery 3 | Gallery 4 | Portraits | Caricature | More Caricatures | Custom Logos
| Services | Banner Design | Logo Design | Calligraphy
| Farsi, Art & Music Classes | Modern Persian Music Concert, Oct. 98 | Lost Persian cat (Poetry) | Lost Persian Cat (Music) | Shahla Jamal Studio | Rumi Art Society ]
---

Send your Comments, Questions and Orders to mojamal@hotmail.com
Copyright © 1997-2023 Mo Jamal, FarsiNet, Inc. - All Rights Reserved. (112397 73116 )
The contents of this site is protected under U.S. and other national copyright laws.
No portion of this site may be copied or redistributed in any manner without the express written consent of the copyright owners.
| <!!--#include virtual="/cgi-bin/epoll_iranelection09.cgi"--> <!!--#include virtual="/cgi-bin/epoll_us_prez08.cgi"--> <!!--#include virtual="/cgi-bin/epoll_us_prez08_iranianvotes.cgi"--> <!!--#include virtual="/cgi-bin/epoll_mazhab.cgi"--> | <!!--#include virtual="/cgi-bin/epoll_news.cgi"--> <!!--#include virtual="/cgi-bin/epoll_irannuke.cgi"--> |
| --- | --- |