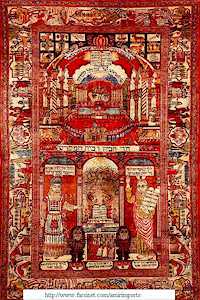 A Persian Masterpiece - Silk Biblical Persian Rug
A unique, one-of-a-kind, Fantastic Biblical Rug - Old masterpiece of all silk Persian rug made in Kashan.
The stories of Old Testament is hand-woven by a Jewish artist named, Yahudi. A predominant jewish family prayer rug was brought back from Iran right after the revolution.
With fine Hebrew woven stories, it is a fantastic museum piece and a must for serious collector. Call for a large color picture of the rug (US$10.00), price or to set up appointment to see the rug if really interested.


1-800-226-7847
Country & Province: IRAN, Kashan
Condition: Excellent
Description: Fine 100% silk hand woven.
Price list - Yahudi Kashan Rug